Lindsey is an Arizonan at heart despite growing up in rural Illinois. From early on she remembers touring the Midwest state in search of many a yard sale, thrift store, and consignment shop with her mother. Through this--and early morning Black Friday sales--she found the love of the hunt for bargains was in her blood. Fashion, however, came later. As a high school student, she mostly tried to blend in by wearing the same t-shirts and jeans as her peers. Deep inside though, she longed to creatively express herself through bright colors, bold shapes, and brilliant details. It wasn't until she went off to college and began to explore the racks of a local thrift shop that she discovered her own personal style. Today Lindsey no longer worries about how others perceive her style; instead she sees her clothes as a form of personal creativity and expression. Through lace, leather, layering, textures, print mixing, and coordinating she finds herself at home. For her Thrifty Witches is a way for her to utilize her deal-digging genes and fashion-forward eye to help other women step out of the shadows and into the light that is self awareness and true beauty. Because whether one is going out on the town, vacationing abroad, shopping for groceries, or even lounging on the couch, everyone deserves to feel like the true version of themselves.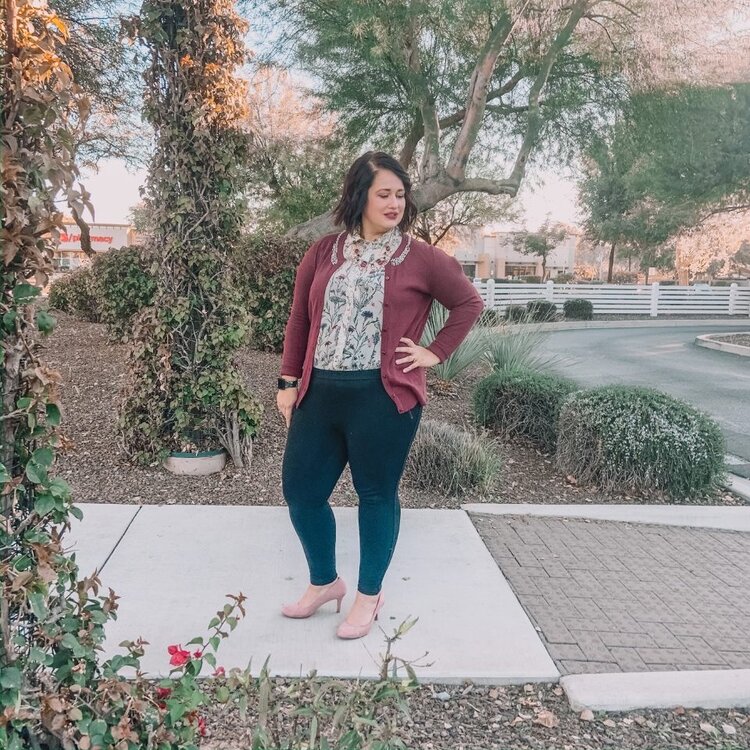 Trisha is a fashion risk taker disguised as a high school assistant principal. Working in public education for 12 years, Trisha has learned to embrace a professional and unique style by means of thrifting at Goodwill and other second hand stores. She believes that you shouldn't have to sacrifice your fashion identity for the perception of what "professional" should be. She's been shopping at thrift stores and garage sales as long as she can remember, a hobby passed down from her thrifty grandma and mom, the original "thrifty witches" in her life. When it comes to fashion, there are four things that Trisha just can't live without – lace, velvet, sequins and floral. Trisha has a bold style that combines all sorts of textures, bright colors, and what she calls 'ditsy prints.' She definitely can't resist an awesome blazer or moto jacket. According to Trisha, thrift stores are full of amazing fashion finds that women bought with the very best of intentions, but then were afraid to wear, so into the Goodwill pile they went. Trisha's goal with Thrifty Witches is to help women reclaim those amazing pieces and take those fashion risks they were otherwise afraid to take, all while on a penny pinching budget. Thrifty Witches is as much about women's empowerment as it is about fashion - feeling as confident and fierce in your own skin as you can feel in your clothes.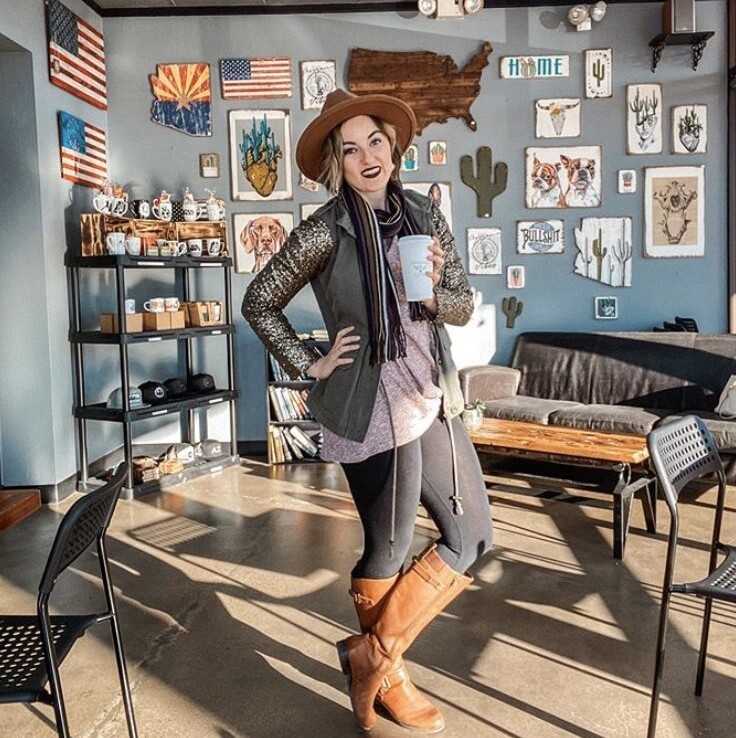 Rising up from small-town, Southern Arizona, Shannon planted her roots in Phoenix where she got her first degree from Arizona State University to become an English teacher. After several years of teaching English, Shannon continued her education and got a masters in Educational Leadership and took on a new role as a Secondary Instructional Coach. While teaching, education, and literature will always have a place in her heart, Shannon's true passion has always been shopping. Being an educator gives Shannon a lot of experience in how to rock business casual on a budget. It also taught her how to dress with confidence. But she credits the free-loving-town of Bisbee, where she went to high school, for the free-spirit vibes many of her outfits have and a house on five acres in the middle of nowhere for her desert-dweller soul. She describes her style as ranging from boho, hippie mom, to edgy business woman, to grandma chic. She can't resist cheetah print, jeans with holes, earth tones, the color black, or an obnoxious blazer that is generations too old for her. For Shannon, fashion is about allowing yourself to be all the women inside of you and that's what she hopes Thrifty Witches will do for others. Thrifty Witches isn't just about reusable fashion or putting a cute outfit together; it's about finding all those different sides of you, empowering them, and showcasing them to the world. It's just a bonus that you get to do it in a fierce outfit.